The man holding the keys might have wandered into a fairytale. He faces a pair of towering doors whose knocker is larger than his head. In his hand, the giant hoop clatters as he feels his way towards No 401; it enters the keyhole with a clear, sharp clang. The man starts to push and light from inside the room falls across his shoes.
At 6.30am, the Vatican is awakening. In a few hours, the room Alessio Censoni has just opened, the Sala Rotonda, will be packed with tourists. But, for now, the building is coming to life with workers. Chatter blows along the corridors. Together with four shift-mates, Censoni continues his round of unlocking: 300 doors to go.
Since his election in 2013, Pope Francis has repeatedly praised the dignity of labour (in Buenos Aires, he once did a stint as a bouncer). Group by group, he has invited the Vatican's 4,800 employees to mass in Casa Santa Marta, the guesthouse where he lives. In January, he baptised Censoni's daughter. What can his employees – hastening to the clocking-in machine, past the sleepy security guard in a North Face hoodie – tell us about working alongside the pontiff?
The cleverness of Pope Francis has been to advance the message of Christ simply by being human himself. He has brought divine office down to earth with a revolution in tone. Famously, he is the first pope to use the word "gay" ("If a person is gay and seeks God and has good will, who am I to judge?"). He has described the pay gap between men and women as "pure scandal", advised Catholics that they needn't breed "like rabbits", and called priests who refuse to baptise the children of single mothers "animals". He has washed the feet of young prisoners. In this sense, Pope Francis is a parable in action.
If his predecessor Pope Benedict was perceived as aloof and scholastic, this pope wears a full-faced grin and wields a thumbs-up. But while he is seen as progressive, Francis's reform of the curia – the church's central government, which he has castigated for its insularity and back-biting – is moving slowly. And despite the apparent liberalism of his speeches, the official teaching remains mostly intact: abortion is still "absolute evil", homosexual acts a sin, gay marriage firmly opposed. Francis has managed to suggest a radical agenda by putting the theme of mercy at the heart of everything he does: in countless speeches, pronouncements and even the current "extraordinary jubilee" year. It's a message that has secular appeal (who doesn't believe in compassion?), and it has allowed the pope to sidestep a confrontation with the church's more conservative forces, by encouraging local priests to use their own discretion.
But still the Vatican remains highly secretive, a world in miniature; packed into its 0.44 sq km is everything a state needs, only smaller. Beyond its museums and St Peter's Basilica, the frontiers are well guarded. There are high walls, and the famous bank is housed inside an old fortress. The fire engines are the size of minibuses. Under Pope John Paul II, the cinema was busy, but the chairs are now stacked and it looks disused. There is even a tiny jail, used to detain the priest convicted in July for his part in the latest Vatileaks scandal exposing financial mismanagement and corruption at the city's heart. Petrol costs a minuscule 40 cents a litre, compared with €1.40 over the border in Rome.
[He] says these things, catchy phrases, which are less than 140 characters, so they naturally fit on Twitter

Father Federico Lombardi
At one of these roadside pumps, the Popemobile is being refuelled. Renzo Cestiè, chatting to the attendant, is Pope Francis's senior driver. He was second driver for Benedict, "but we had a whole different fleet then", he says. "We had an armoured Mercedes, an armoured Popemobile. Pope Francis doesn't want them. He wants contact with the people. See?" He lifts a protective cover to reveal a Popemobile with tinted windows. "This was used by John Paul II and Benedict, but the Holy Father fears nothing." And what about his driver? "I don't feel fear," he shrugs. "If it happens, we go to paradise."
Cestiè sensed that his job was changing from day one. Sent to collect the newly elected pope from his pensione in central Rome, he waited by the entrance in a Mercedes. "An official came rushing out, saying, 'Take it away!' Because the pope wanted to get the bus with his cardinals. He said, 'Do you mind if I go with my friends?' We didn't know then that he hated luxury. We didn't stop to think that these cars weren't made for him."
For the first few weeks, Cestiè, who is 62 and has worked at the Vatican since he was 14, reported for duty in fancy cars. Then the pope visited his garage to see the options for himself, settling on a blue Ford Focus and the smallest, most open Popemobile. Cestiè thumps its bonnet. "For us it was a wonderful thing, the Holy Father so humble." Now Benedict's Mercedes is boxed in at the back of the garage, its roof covered with a sheet of bubblewrap.
Cestiè flips open the Popemobile's glove box, where a white towel is stowed to dry the pope on rainy days. As a rule, he says, the vehicle should feature the papal coat of arms, but the paintwork glints with Benedict's golden emblem. "Pope Francis doesn't like crests." He also insists on shutting his own door. Cestiè lets slip a reference to the pope's "butlers", or assistants, and then corrects himself. "He doesn't want to call them butlers, because we are all the same. We are people who collaborate with him."
The pope is a quiet passenger who shuns the car radio, he says. But every now and then, Cestiè will glance in his rearview mirror and find his passenger's gaze. "I always look away," he says. When Francis meets his eye, "it is as if, in that moment, he looks inside you and he knows who you are". His voice cracks, the silence eventually broken by his mobile ringtone: Barry White's Can't Get Enough Of Your Love, Babe.
Pushed to name the biggest change since Francis was elected, Cestiè's answer is surprisingly pragmatic: it's his work-life balance. Unlike Benedict's retired driver, "who was always here, every day, every holiday", Cestiè works a six-hour shift. "The Holy Father wouldn't want it. He is the first to say, 'Why aren't you resting today?'"
It is a five-minute walk from Cestiè's carport to the lavish apostolic palace, past the fire engines where the firemen still lean on the bonnet. This is where Benedict lived as pope, and where Francis holds meetings. Sun pours through the windows, making latticed shadows on the wall. The galleried walkways glimmer with the clean, faint fragrance of undisturbed air. At the clip of approaching footsteps, a Swiss guard materialises around a corner. He can't talk on duty, he says (and this afternoon he is captaining FC Guardia in a match against a Gypsy team), but he promises to meet tomorrow.
***
He doesn't want to call them butlers, because we are all the same. We are people who collaborate with him

Renzo Cestiè
In the Sala Regia, a vast antechamber to the Sistine Chapel, workers are packing portraits of 19th-century popes into removal crates after an exhibition. Just off this room is the apostolic sacristy where Father Pavel Benedik, a taciturn Slovakian priest, is fiddling with his smartphone. He is the custodian here, and calm prevails. In an hour, the phone rings once. The room is lined with polished wardrobes, a hive of numbered wooden doors in which every item has its place, and every place has a label. Vestments are stowed by size (Pope Francis takes a 3, the most popular) and the drawers are taped with old-fashioned embossed strips: "X IL PAPA [for the pope]", "VIMPE STOLE [shawls, stoles]".

Helping Father Pavel is Father Jesus Polentino, 30, from Venezuela. He was ordained just as Benedict resigned, so for him the election of an Argentinian pope felt particularly auspicious. "The first Latin American pope," he says. "They went to the end of the world to find him. That means that even we, who are from the end of the world, can arrive at the heart of this church."
Or maybe the heart, its centre, is moving outwards? "Only the style changes a bit," Father Pavel says. He withdraws a bent cross crosier from a nearby cupboard and lays it next to the original on which it was modelled. This crucifix-topped staff fell into disuse under Benedict, but it has been revived, to the distaste of some Catholics, who find its depiction of Jesus's suffering too brutal. "Almost the same," Father Pavel says, looking at the two. And they are, only the Christ in Francis's version has even thinner legs. Suffering is not something from which he shies away.
A reformer
At 6pm, it is rush hour in the Vatican. Cars file along the road behind the palace of the governatorato, a sort of mayoral building opposite which Francis's crest has been clipped out of box hedging; maybe it was planted before he made his wishes clear. Nuns unload shopping trolleys into their car boots by the supermarket, and a crowd gathers at the pharmacy where a promotional stand offers samples of Avène skincare. Outside the Swiss Guard barracks, the air is thick with sweat and deodorant. The young soldiers who guard the pope have just finished a football match.
Just beyond the Vatican gates, Father Federico Lombardi, 73, shows the way to his office, up marble stairs, through a room stacked floor-to-ceiling with boxes of paper and ink. For 10 years until this summer, he served as the pope's spokesperson (though he rejects that title, because "the pope can speak for himself"), working with John Paul II, Benedict and the current pope.
What has Francis been like? "He is a volcano!" Lombardi says, settling into his swivel chair. "This dynamism – no one expected this. Not even him! He is very creative, he has lots of initiatives."
These have included choosing to launch the pope's "holy year of mercy" at Bangui cathedral in Central African Republic, rather than Rome. Then there were the 11 Syrian migrants he brought back to Rome from Lesbos in April. Not to mention the free-form press conferences, the reinvigorated synod of bishops, which is devolving power to the regions, and the council of cardinal advisers tasked with reforming the curia. Twelve times in an hour, Lombardi describes Francis as "dynamic" – but would he say the pontiff is a reformer?
"Let's say he has given a strong impetus to putting us on the road, no? When he speaks about the church 'going out', he means a church that is not inside the walls defending itself, not self-referential," Lombardi replies, cupping his hands as if to enclose a tiny city. "That definitely is a sense he has given us. The church on the road – and, in this sense, I accept the definition of reformer."
I have no connection to Catholicism. I was raised Jewish and have never been to mass. Despite this, the Vatican absolutely blew me away. It is one of the most ornate and beautiful structures I have ever visited, and the amount of history contained within these walls left me in awe. It was so over-the-top that it reminded me of the Palace of Versailles.
With thousands upon thousands of pieces of art spread across multiple museums within the Vatican complex, the Vatican Museums consist of one of the best art collections on earth. They have Egyptian art, Etruscan artifacts, Greek and Roman statues, massive tapestries from the 1500s, religious paintings, and so much more.
I visited Vatican City in the summer of 2009. In addition to wandering through the museums and basilica, we also went into the crypt and saw the tomb of John Paul II, though I wasn't allowed to take photos down below. Here is a collection of some of my favorite photos I took on that trip.
I saw these priests walking along the corridor of St. Peter's Square: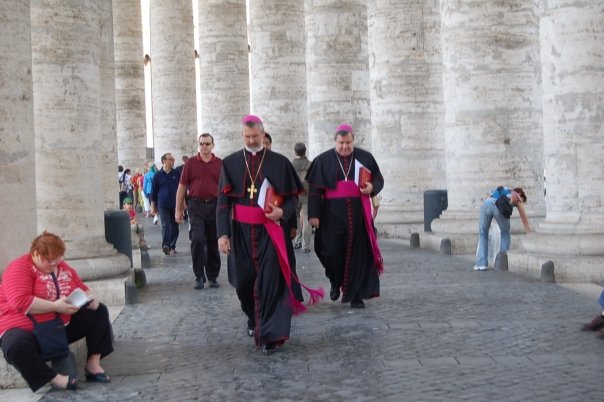 I ascended the dome of the basilica and took this photo of my view of St. Peter's Square: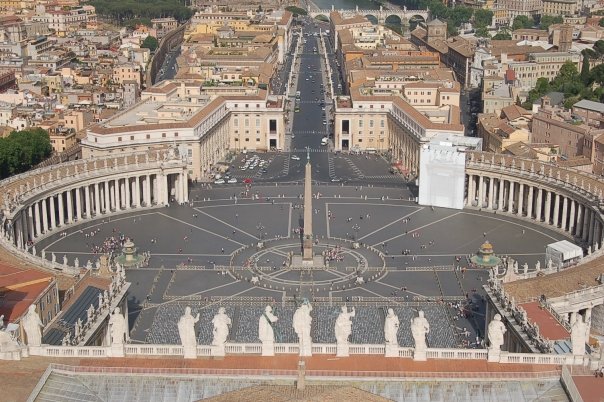 The Vatican Museums are shockingly huge (yes, the Vatican has many museums in the complex), and I was fascinated with the animal room, full of eerie statues of creatures: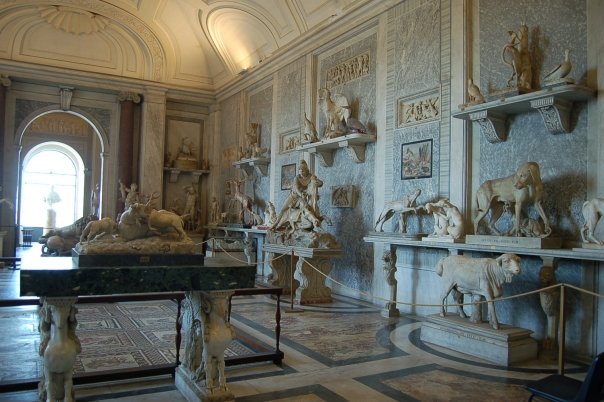 I caught a glimpse of one of the Swiss Guards. The papal Swiss guard was founded at the Vatican in 1506: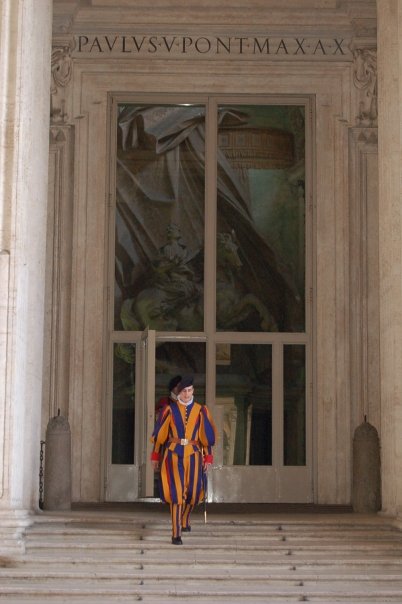 One of my favorite parts of the Vatican Museums was the map gallery, filled with large, painted maps of various parts of the world: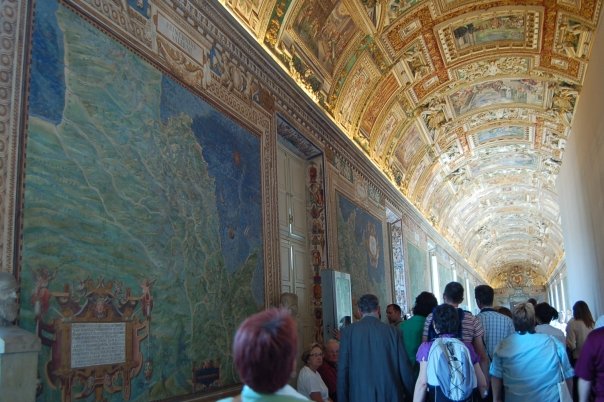 The Vatican is almost disturbingly opulent, with gilded moulding and ceilings with murals: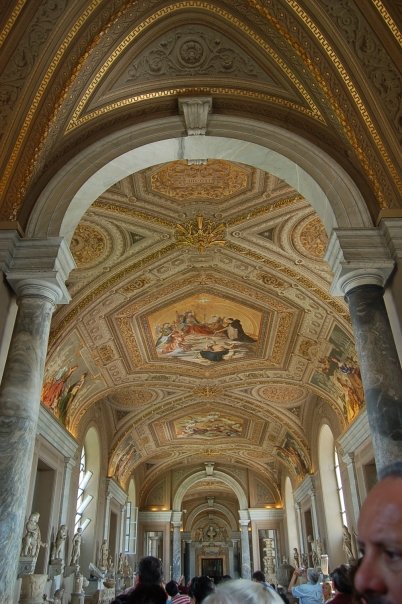 While I loved the famous "Laocoön and His Sons" sculpture, I also was captivated by this statue of Saint Longinus by Bernini (how the heck do you make marble look like gathered fabric?):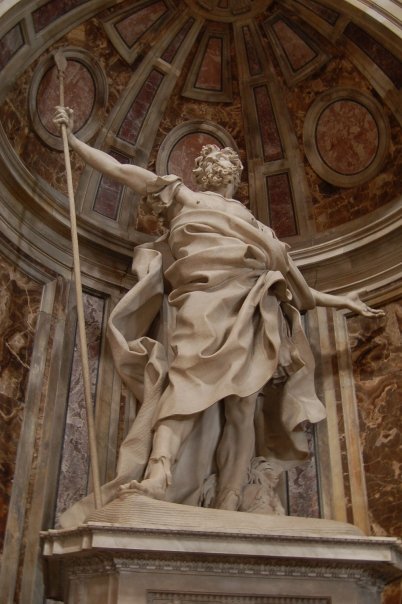 I took this photo of the inside of St. Peter's Basilica after ascending the dome. I'm higher up than you think–look at the people in the pews: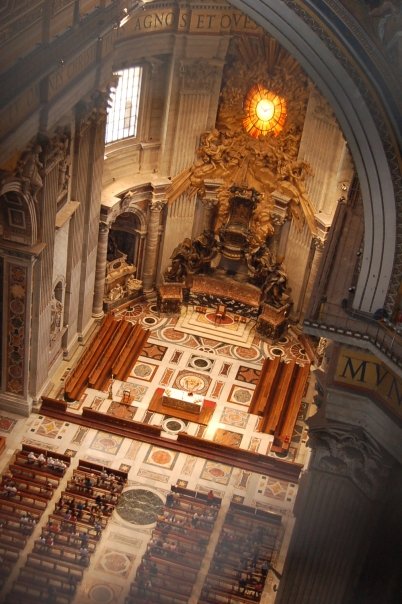 One of the most famous works in the Vatican is Michaelangelo's Pieta, which I photographed below. It sits in St. Peter's Basilica behind a glass case: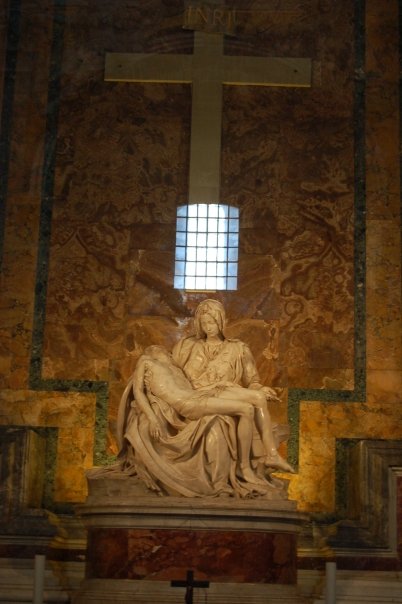 You aren't supposed to take photos in the Sistine Chapel, but I had to sneak one in. Don't tell….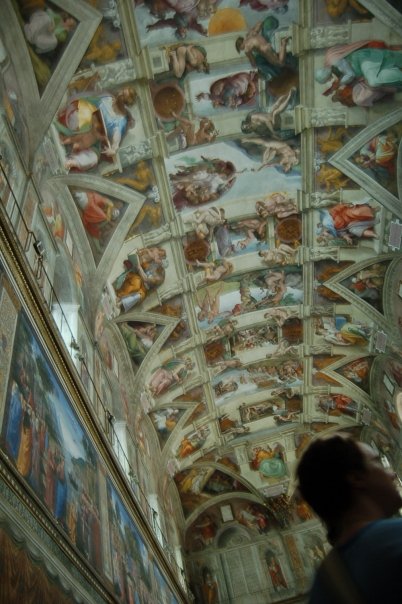 While there were many curious non-religious tourists like me, there were also many Catholic devotees here: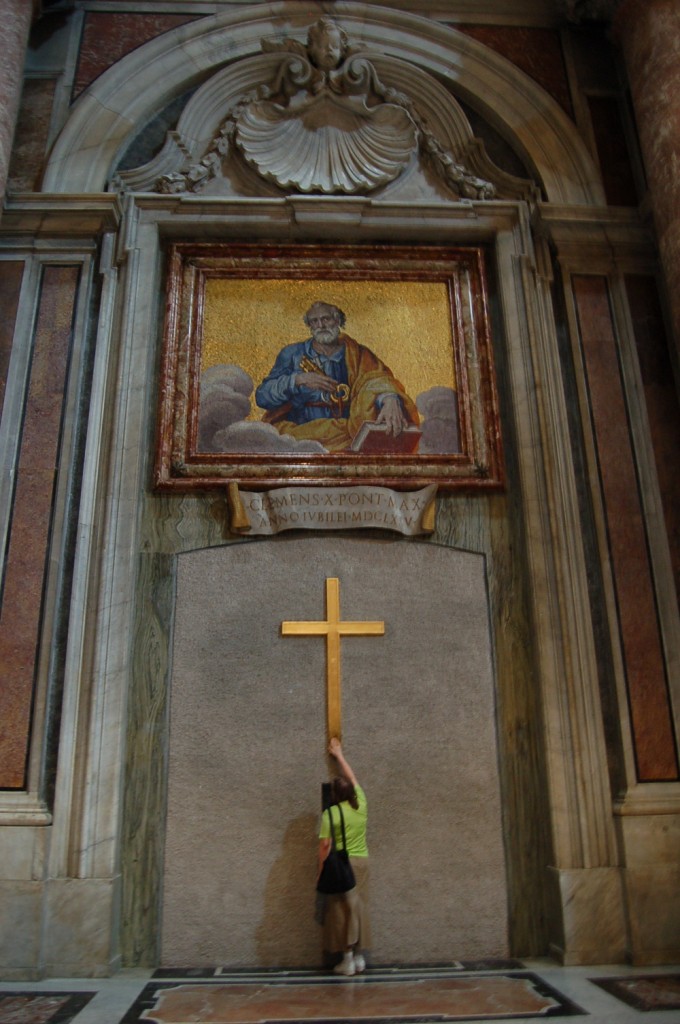 I snapped this photo of two nuns walking out of St. Peter's Basilica: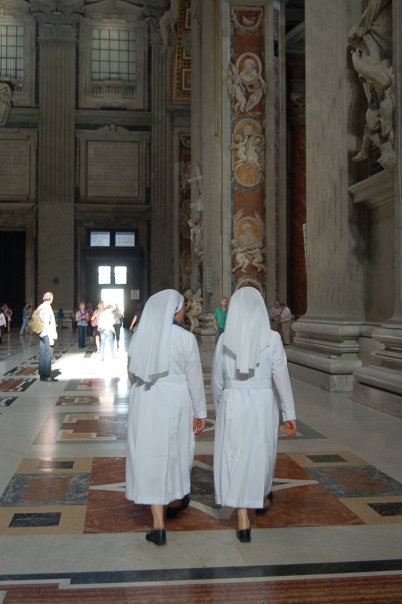 Related